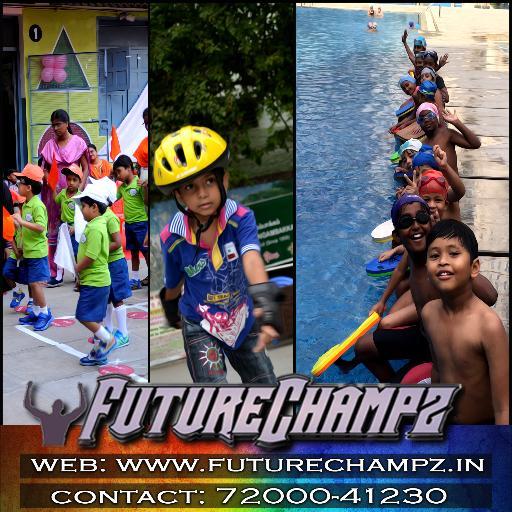 HIGH LEVEL OVERVIEW OF OUR SCHOOL  PROGRAM
Futurechampz school programs, We have separately tailored curriculum for various classes from kindergarten to high school. Children are exposed to best in class physical education curriculum which is continuously updated to meet standards. Age appropriate properties alias props are given to children during their classes.Children get to play and enjoy with world class and custom made age appropriate props and equipments taking Every child is involved in the activity and no child feels lost.Assessments are taken at regular periods of time to identify the areas of strengths and weakness among children. Our trainers continuously access strengths, identify talent at the grass root stages and help in overcoming the child'sweak areas. Pointers are provided by our trainers on how to convert the weaknesses to strengths and improve on one's strengths. Special emphasis is provided in developing team spirit among children by involving them in team building games
ASSOCIATIONS
We have our curriculum reviewed by eminent sports personalities in India.
Athletes who have represented India are in our Advisory board and we provide valuable inputs time and again for overall improvement of the program Unlike others, here at FutureChampz we take the feedback from the partnering school's, discuss with them, innovate and create custom made curriculum specifically suited for the school's needs.
MAKE A DIFFERENCE
You are making a difference in your child's life today by using the ideas and activities provided at FutureChampz.
Spending quality time can make all the difference in the world to a child. Our activities foster meaningful relationships between fellow children and thereby leading to their holistic development.
For School programs Contact:
k.Venkatesan (CEO) of Futurechamp: M.Sc [ Applied Psychology ] and B.Ped [ Physical Education ]:
CONTACT:7200041230,
For more info about our company: Google "futurechampz"
Please navigate to our other pages to know more about our programme.
FutureChampz® are trademarks of the FutureChampz Company.
All other marks are the property of their respective owners.
page tags: futurechampz school programs center,futurechampz school programs training,futurechampz school programs classes,futurechampz school programs classes in chennai,cricket classes nungambakkam,cricket training classes tnagar, futurechampz school programs classes annanagar,futurechampz school programs classes choolaimedu,cricket training classes thousandlight,cricket training center,cricket coaches,cricket ground,