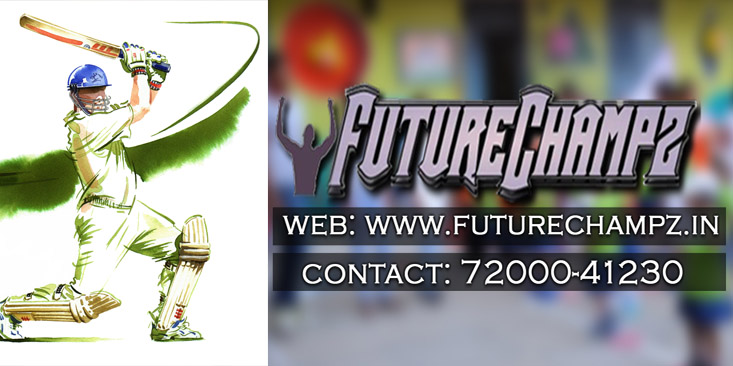 Futurechampz Cricket coaching
Futurechampz Cricket coaching classes Academy is a new endeavour of its kind, evolved to promote Cricket as a curriculum in a child's life with a passion for Cricket. At Futurechampz Academy extensive training through innovative methods are provided. Progress of every trainee is closely monitored under the supervision of qualified coaches. Futurechampz strives to produce world class cricketers through a holistic development program encompassing cricketing skills along with physical and mental attributes essential for the modern day cricket. Futurechampz coaching sessions are held at many places around chennai, Nungambakkam, t-nagar,annanagar,choolaimedu,thousandlight. futurechampz also conducts and participates in various tournaments across age groups in order to provide exposure to competitive cricket,skating,basketball,swimming,Athletics.
FUTURECHAMPZ sports Academy
India is such a vast country with huge population. There is tremendous sporting talent spread all over the country capable of bringing laurels to our country by winning at International sporting events.But sadly, sports has not been given the proper recognition. Of late, however things have changed after India's good show at International events. At FutureChampz, we strongly believe that if sporting talent can be identified at the grassroot levels and nurtured properly, a sporting revolution would happen across the country.
For Cricket Coaching Contact:
k.Venkatesan (CEO) of Futurechamp: M.Sc [ Applied Psychology ] and B.Ped [ Physical Education ]:
CONTACT:7200041230,
For more info about our company: Google "futurechampz"
Please navigate to our other pages to know more about our programme.
FutureChampz® are trademarks of the FutureChampz Company.
All other marks are the property of their respective owners.
Page tags:
cricket coaching center,cricket coaching training,cricket coaching classes,cricket coaching classes in chennai,cricket classes nungambakkam,cricket training classes tnagar, cricket coaching classes annanagar,cricket coaching classes choolaimedu,cricket trainingclasses thousandlight,cricket training center,cricket coaches,cricket ground,